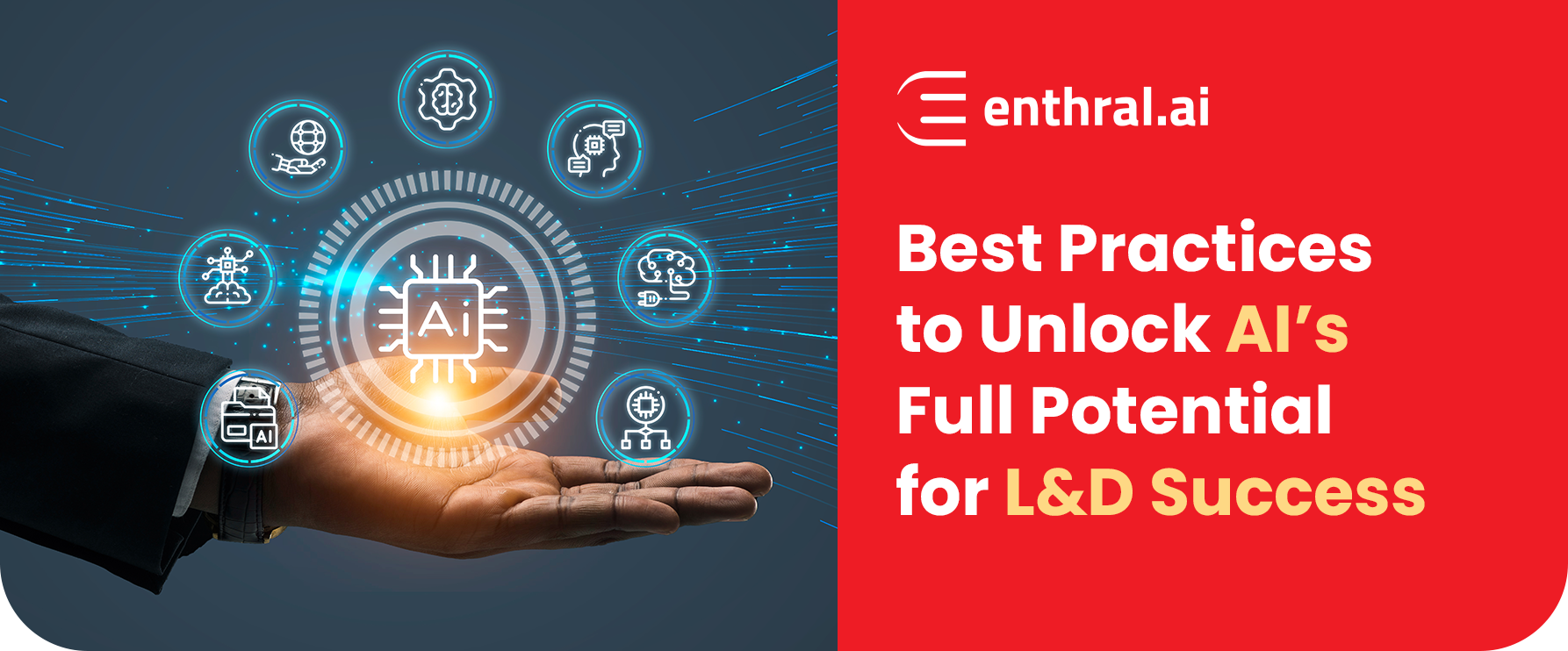 AI has essentially become an integral part of personal and professional lives, conquering every realm and influencing every activity today. The field of learning and development (L&D) is no exception.
In the last year or so, Generative AI has become the newest buzzword and is now mission-critical for businesses to achieve a competitive edge. It has found massive uptake especially among the younger cohorts of professionals with a Salesforce survey pointing out that nearly 6 in 10 users believe they are on their way to mastering the technology. It is little wonder then that the Generative AI market size is predicted to be valued at $1.3 trillion in 2032, growing at a CAGR of 42% between 2023 and 2032.
Meanwhile, in the space of L&D, AI's emergence is bringing about a paradigm shift in the way organizations are fostering a culture of continuous learning to ensure their workforce remains agile and relevant. Till Generative AI came into the picture and became all-pervasive, AI was used in L&D only to simplify tasks. The end users or the learners who benefit the most from the learning process were hardly spotlighted in the equation.
Now, however, it has become more important than ever for L&D teams leveraging AI to consider the best possible ways to integrate technology and human expertise keeping learners at the centre, so as to cultivate a more adaptive, intelligent, and human-centered approach to learning.
Best Practices to Unlock AI's Potential
Even as everyone including industry experts extol the value of AI, a recent research report by Wiley titled "Artificial Intelligence in Learning and Development: Five Surprising Facts You Need to Know," has revealed some interesting facts. As per the research, 59% of workers surveyed say they prefer to have an instructor rather than an AI direct their workforce learning, and as many as 87% want their L&D content to be developed by an SME or a person instead of AI.
That brings us to some very important key points and best practices to consider while unleashing AI's fullest potential in enhancing workplace L&D.
Here's a deep dive into some:
1. Considering Human Touch in AI
If the survey is to be believed, clearly, employees prefer human involvement in strategizing, creating and fulfilling their L&D initiatives. Nonetheless, this in no way implies that AI does not have a role to play.
The same survey pointed that employees are happy for L&D teams to leverage AI to streamline their responsibilities. AI can, in fact, be used to simplify the work of L&D teams, such as evaluating employee skills and preferences to create personalized learning paths, deploying chatbots to address common queries, and identifying areas where learners need training content for additional support.
Considering one of the top responsibilities of L&D is nurturing talent, it is only understandable for employees to expect human touch in L&D activities. In fact, with AI-driven automation, L&D teams can lessen the burden of administrative tasks, freeing up more of their time for strategic initiatives that lend a human touch to employee interactions. This shift can enhance the overall learning journey.
The above point also brings us to our next key focus area: understanding when to use AI.
2. Choosing Right Areas to Incorporate AI
It is essential to have a clear understanding of when to utilize AI. While it's best to avoid using it in situations that are subject to regulatory scrutiny, AI can be a valuable asset for tasks aimed at boosting productivity, such as automating routine operations.
It can yield ample benefits in scenarios involving text analysis, summarization, and content curation. Additionally, it can help in tasks related to discovery of information and sharing of knowledge.
3. Examining Ethical Concerns Surrounding AI
While the advantages of AI for L&D are established, there are still ethical challenges to consider. One particular concern is the use of sensitive personnel data for training generative AI tools. This practice could result in responses influenced by highly personal information, raising issues related to user data protection.
L&D teams need to take proactive steps to regulate and oversee any AI implementation projects. It is necessary to make careful choices regarding its intended use and ensure that no sensitive data is used in the system. Next is to ensure that users of these tools receive comprehensive training on inclusive language and behaviors, maintaining data free from bias.
Additionally, ongoing monitoring of usage and outputs is crucial to address and correct any potential issues arising from employee interactions with the tools. An effective AI project hinges on maintaining human touch and ensuring that those overseeing the technology are well aware of best practices.
4. Emphasizing Personalization & Engagement
Another important aspect to pay attention to is personalizing the journey for learners and managing their engagement. Since learners remain the focus of any L&D journey (with a touch of AI or humans), creating adaptive learning paths customized to the unique needs and progress of each learner is important. The aim should be to develop tailored learning experiences and individualized assessments to ensure that learners receive content relevant to their skill levels.
This can be done by integrating gamification elements such as leaderboards, badges, and rewards to enrich the learning journey and enhance learning outcomes. L&D teams can also use AI to utilize the vast amount of employee data to personalize training based on job roles, learning objectives, and career aspirations. Additionally, enhancing content with audio and video materials can help elevate engagement, and increase the effectiveness of courses.
5. Fine-tuning Outputs
Another aspect that L&D teams need to focus on is exercising caution when dealing with potentially biased or plagiarized content given by AI models. The best way is to thoroughly review and fine-tune the output to ensure alignment with training goals and ethics. Even as AI is incorporated into the L&D strategy, focus should be on holistic research to test the model.
Attention should also be given to legalities in the process associated with generative AI tools to prevent any unnecessary consequences. Furthermore, putting data privacy and security on the agenda and maintaining vigilance regarding the handling and storage of user data should be top priorities.
6. Creating Correct Prompts
Being mindful while creating prompts in generative AI is another important consideration given that they directly influence quality of the generated responses. Incorporating correct facts and supporting data into the prompts can help ensure accuracy of responses.
Additionally, it is vital to review content generated by generative AI. Evaluating, checking and refining the output to keep it in tandem with L&D objectives is the key. Even though generative AI is highly effective and beneficial, human involvement still remains crucial.
Final Thoughts
As technology like AI continues to play an integral role in meeting the growing demand for upskilling and reskilling, it is essential to keep in mind that the most effective training strategies are built on the foundation of human connection. By following some best practices, organizations can embrace the potential of AI to unlock new heights of efficiency, flexibility, and effectiveness in their L&D initiatives.